Managing Your Retirement Account…and More
Most financial advisors don't manage your 401(k), 403(b) or Thrift Savings Plan (TSP), leaving you to worry about it.
At Scarborough Capital Management, we provide the practical financial planning and investment management you need…starting with the management of your retirement account.
You'll get affordable professional management to keep your workplace retirement account on track.  And there's no minimum account requirement.
Your account is managed according to your personal risk profile
No more worrying about when to buy or sell
No need to move your account
You'll get professional oversight and your own advisor with unlimited phone and email support.
All for one flat, affordable monthly fee, starting at about $1 a day.
Practical Financial Help, When You Need It
If retirement plan management is all you need right now, that's fine.
But that's just the start of what we do for you.  When you're ready, we're able to provide more help:
Comprehensive, personalized financial planning
Full-service investment management
So we'll be ready to help you tackle life's challenges:
Am I saving enough to retire comfortably?
When can I retire?
How should I save for my children's college?
How should I invest this inheritance?
Even better, our services include unlimited phone and email support, so you can get help when you need it.
Are We Right For You?
The big brand names of the financial industry invest millions of dollars in advertising to get your attention.  You may be surprised to learn that many of those same firms may be more oriented to selling you products than providing you true advice.
That's not how we operate.  At Scarborough Capital Management, we want to be clear on what you can expect and how much it will cost.
Do any of these apply?  Learn if we're a fit for you:
I want help with my workplace retirement account
While target date funds and other fund options may seem like a straightforward solution, there's a big problem. They are designed for the 'average person'. The target date fund manager assumes everyone who retires in 2040 is the same. Same number of dependents, same responsibilities, same income. As we all know, we are all very different. A single professional is likely going to have a totally different risk profile than a one-income family with three kids. So there's an often overlooked risk to target date funds since they are not personalized to you. You'll usually do better with investments chosen for your specific needs and appropriate risk level. We'll handle all of that, including ongoing oversight and rebalancing so you don't have to worry.

I want a coach, not a guru
We love clients who are committed to improving their future. But we also understand it's not easy to do on your own. That's why we act as your coach, explaining everything we do for you, and coaching you to stay accountable to your own goals. This collaborative approach will help you stay optimistic and confident while working towards your goals.

I want more than a canned financial plan
True financial planning can change your life! That's what we do here at Scarborough. Instead of just plugging numbers into a software program, we go far beyond that. Our CERTIFIED FINANCIAL PLANNER™ and CHARTERED RETIREMENT PLANNING COUNSELOR™ professionals work closely with you to figure out where you want to go and what you need to do to get there.
I want an advisor that explains everything in plain language
Our full-service investment management requires extensive research and due diligence but that doesn't mean we have to explain it to you in complex-sounding financial jargon. You need to know what you are invested in, and why, so it's our job to explain things in plain language. You'll notice that in everything we do, from emails, to meetings, to reporting.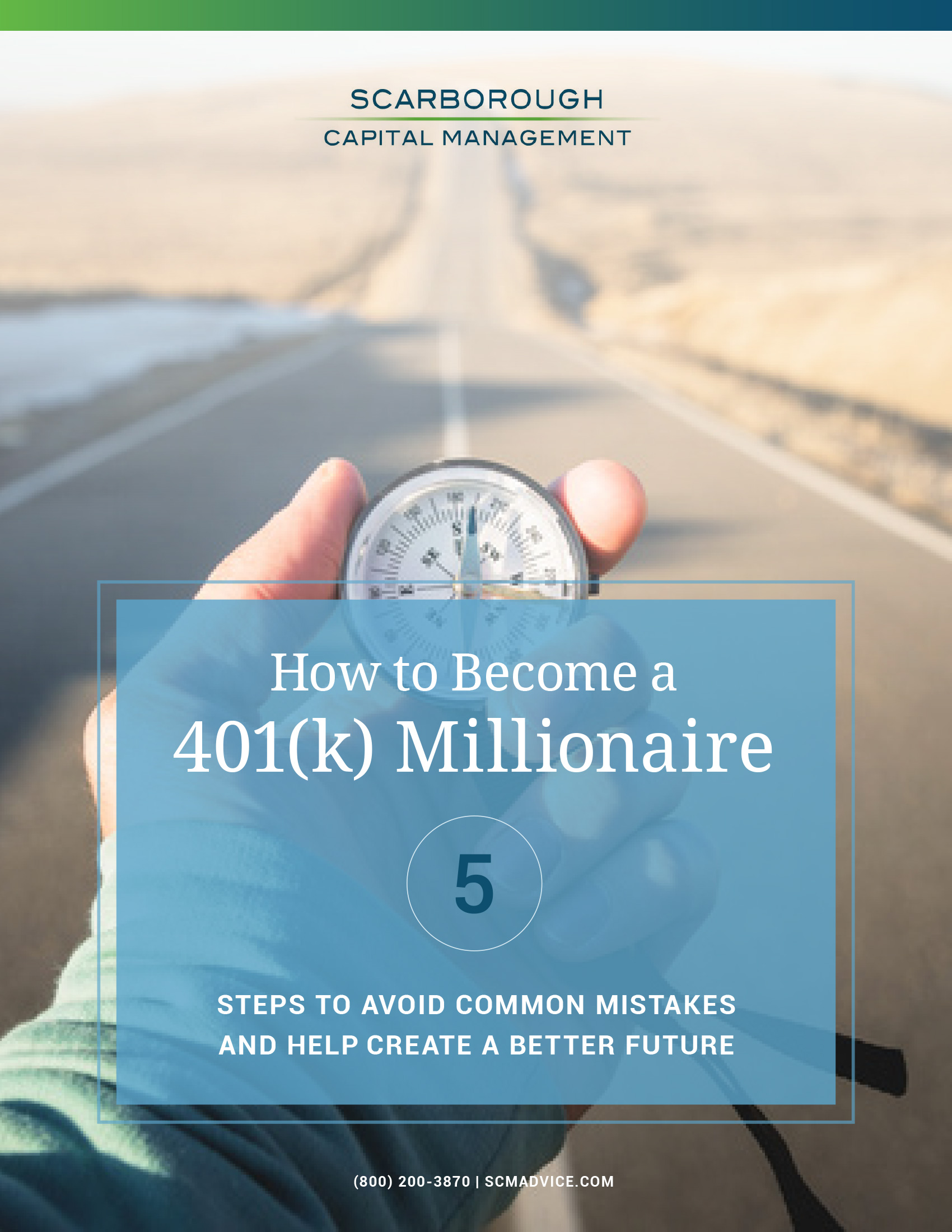 Are you ready to become a 401(k) Millionaire?
Our free guide will help you understand how to better position your 401(k) so that you can retire as a millionaire.